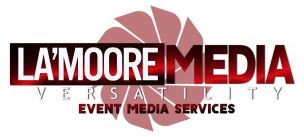 Veteran owned, media and photography specialist.
For commercials, video recordings, video pic creation, and a host of other videography services, La'Moore Media Versatility is the company you should be contacting. We make excellent videos of every occasion from weddings and high school graduations to political speeches and fundraising events.

With the latest in video technology that we have at our fingertips, we can create superior quality infomercials, commercials, and social media videos. Every possible video documentation service is available here, and the work we do is all priced reasonably.

VIDEO RECORDING AND VIDEO EDITING IN JACKSONVILLE, NORTH CAROLINA
If you are giving a speech, why not have it professionally recorded for posterity? We offer our services to cover lectures at political rallies and events, as well as pastoral sermons. Our customers include religious organizations, fraternities, sororities, local businesses, and others.

The videography documentation we produce here is unrivaled anywhere in the area we serve. We are based in Jacksonville, North Carolina, and we attract customers from as far afield as Wilmington, Raliegh, and Newburn, North Carolina. To boost my credentials, I am studying for a bachelor's degree in videography.

Wedding videos are among the most popular service requested, and we guarantee that the video recording will be perfect, and the video editing service we provide will enhance the final product. We use the latest in videography equipment, including top of the range digital cameras.

Our video services are available for all ages, and for both residential and commercial clients. What separates us from our competitors in the area is that we have a compelling way of telling your story with a visual using both highly skilled videography and photographic techniques.

So for all wedding and graduation videos, political and pastoral speech recordings, video pic creation, and infomercials, make sure La'Moore Media Versatility is your number one choice. We provide a highly polished, professional service and we guarantee customer satisfaction. Call us on (252) 497-3817.