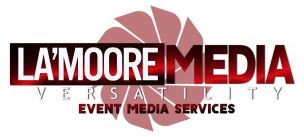 Veteran owned, media and photography specialist.
Testimonials
GRAPHIC DESIGN - LA'MOORE MEDIA VERSATILITY
At La'Moore Media Versatility we offer a wide range of graphic design services including the production of high-quality business cards, flyers, postcards, and other promotional material. We employ freelance graphic designers who are supremely talented and experienced and guarantee you a premier service. Aesthetically appealing graphic art design is essential to giving your business that professional look. So leave the work in the hands of our digital design experts, and we won't let you down.

The graphic design portfolio we have at is La'Moore Media Versatility impressive, and you can study our work. Our graphic and web design team will work on your social media advertising, media choreography, and visual design services to ensure that your products stand out online. High-quality digital graphic design is a specialty of our company, and we are here to make your graphic design projects a significant success. Call us anytime on (252) 497-3817 for more detailed information about what our graphic artists can do for you.